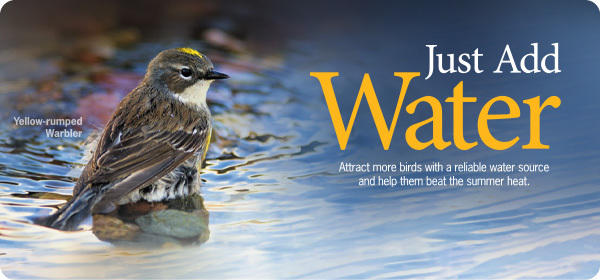 Help Birds Beat the Heat with Water
All birds need water, whether they are regular visitors to your feeders or not. Offering a dependable source of water is probably the simplest and most important step you can take to help birds regulate body temperature and keep feathers in top-flight shape.
In simple terms, water - especially the sound of water - is a bird magnet! Add a bird bath or dripper to your yard and enjoy the show as birds of all types stop by to drink, bathe and preen.
15% OFF Water Products*
Promo Code: WATER15
We have brought in some beautiful concrete bird baths especially for our sale from a local maker. Not all products are available on our online store; better selection in-store.
Hurry in!
*Valid in-store at the participating store(s) listed or by shopping online. One discount per purchase. Offer not valid on previous purchases, with other discounts and while supplies last. Offer valid thru August 15, 2022
Ideas to turn Your Yard into a Sanctuary for Your Song Birds
Landscaping using native plants

will provide natural food sources and shelter from the elements and predators. Add to this feeders, nesting boxes and of course water and birds will come.

While we love our birds, don't forget providing plants for butterflies (milk weed) and bees.

Add the right foods to your feeders,

for the birds in your area

Keep your bird food in a cool, dry location; under 24 degrees

Keep this area clean, both your feeders and below

. Wash your feeders at minimum once per month, and sanitize using 9 parts water to 1 part bleach or cleaning vinegar.

Scrub your bird baths too, especially during hot, humid weather. Replace the water daily during these hot days.

Birds and Chemicals don't mix

Consider not using chemicals in your yard, many are toxic to birds (and pets) including pesticides, herbicides and fungicides. Or do not use them around your bird feeders and bird bath or where birds nest.

Keep the cats away

Cats are the #1 predator of our birds. For both the health of birds and cats, please keep cats indoors.

Reduce Window Collisions

Windows reflect the outdoor habitat and birds are fooled into thinking that they can fly through them
A house where windows are on each side of the house and birds can fly to the other side are deadly
Attach decals or window markers (Feather Friendly) to stop the reflection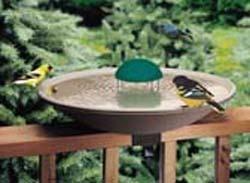 Questions? - Just ask one of the team members at our store; we are here to help.
Thank you for shopping at Wild Birds Unlimited - Kitchener
---