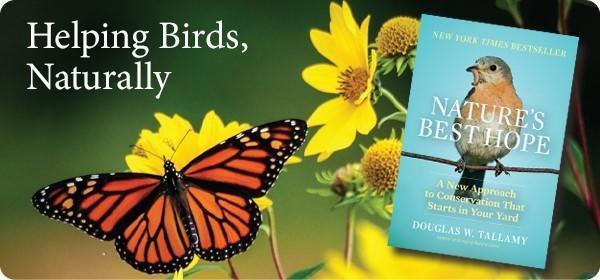 Make Your Backyard Part of Nature's Best Hope
Dr. Tallamy's books, Including "The Nature of Oaks", are available in our store and online.
For decades, most strategies for promoting conservation have been negative, gloomy and depressing…full of recommendations that required sacrifices to our quality of life. They demand drastic behavior changes now for some unforeseen long-term benefit in the future.
In his book, Nature's Best Hope, Dr. Tallamy shares his revolutionary approach to making our planet a better place…while instantaneously adding to our quality of life…without sacrificing anything!
As illustrated in his book, Dr. Tallamy's vision is based on using native landscaping to create "Homegrown National Parks" in our own yards, around our offices, in our parks and along our roadways. These beautiful new landscapes will immediately enrich our quality of life with gorgeous scenery, singing birds, beautiful butterflies and the ever present sights and sound of nature.
The key to having a vibrant homegrown habitat starts with a diverse and native landscape, and Nature's Best Hope is the handbook that provides the motivation and information to empower every landowner to take action.
North America has over 44 million acres of turf grass waiting to be re-born into a wonderland of natural beauty and life. It will require lots of action…but as one of the most persuasive voices in conservation, Dr. Tallamy and his book are sure to rally an army of volunteers ready to carry out one of the great conservation projects of our time.
If you're concerned about doing something good for the environment, Nature's Best Hope is the blueprint you need. Shop now for your copy of this powerful book!
Dr. Douglas Tallamy is a professor in the Department of Entomology and Wildlife Ecology at the University of Delaware, where he has authored over 100 research articles and has taught Insect Taxonomy, Behavioral Ecology other courses for forty years.