Gift Items

WBU Eliminator
Protect your bird seed from the squirrels with our WBU Eliminator Squirrel Proof Feeder. When the squirrel touches the perching ring, its weight closes the feeding ports. The Eliminator technology allows you to adjust the weight sensitivity level, so you can exclude any of the black birds too. The perching ring allows the cardinal to eat at a more comfortable position. It is easy to hang and has a large seed capacity. This feeder also has a great ventilation system to keep your seed fresher. Tools are not needed to disassemble the feeder for cleaning. The best part about this feeder - It comes with a lifetime guarantee.
The Eliminator can also be accessorized too. The weather guard can be added to keep the seed in the ports from getting wet in snowy or rainy weather conditions, it also helps keep your birds dry too. If you prefer to mount your feeder on our Advanced Pole System, you can do that too. The pole adapter is sold separately.
The Joy of Bird Feeding

Written by Jim Carpenter, The Founder and President of Wild Birds Unlimited. You will find this book is filled with lots of useful information and illustrated with over 800 colour images and 180 maps. The Joy of Bird feeding will delight anyone who enjoys feeding the birds.
Binoculars
We stock a variety of Vortex Binoculars, stop by the store and our staff will help you buy the right pair for you. Why not add a harness strap too. One size fits all, adjustable, durable straps that are easy to attach.
Best Places To Bird in Ontario
Local Authors Ken and Mike Burrell tour their favourite birding sights, from Point Pelee to Moosonee, Rainy River, to Cornwall. Along the way they share insider tips for spotting more than 300 species, advice for exactly when and where to go for best results and helpful hints for finding rarely seen birds. Best Places to Bird in Ontario is an invaluable resource that will delight the first-time birder and experienced birders alike.
Advanced Pole System (APS)
The Basic Setup is the first step for the ultimate bird feeding station. In this box set you will find everything you need to get you started. Included is the 4 foot base pole, 4 foot extension pole, a double crook arm, the stabilizer, and a chickadee finial for the top. The options are endless from here, you can add onto this system and create your own backyard feeding station to meet your specific needs. Choose from, mealworm dishes, extra arms, trays, perching branches, fruit branches for the spring migration birds and so much more!
Roosting Boxes - Proudly Made in Canada
These boxes provide a cozy spot where birds can huddle together to stay warm during the depths of a winter storm or freezing temperatures. Don't forget, you can turn your Roosting Box into a bird house in the spring.
Rain Goose 100% Linen Tea Towel - Proudly Made In Canada
These 100% linen tea towels are super absorbant, colour fast, and a great size measuring at 43 cm x 70 cm. They come in various patterns and colours to match any decor.
Solmate Socks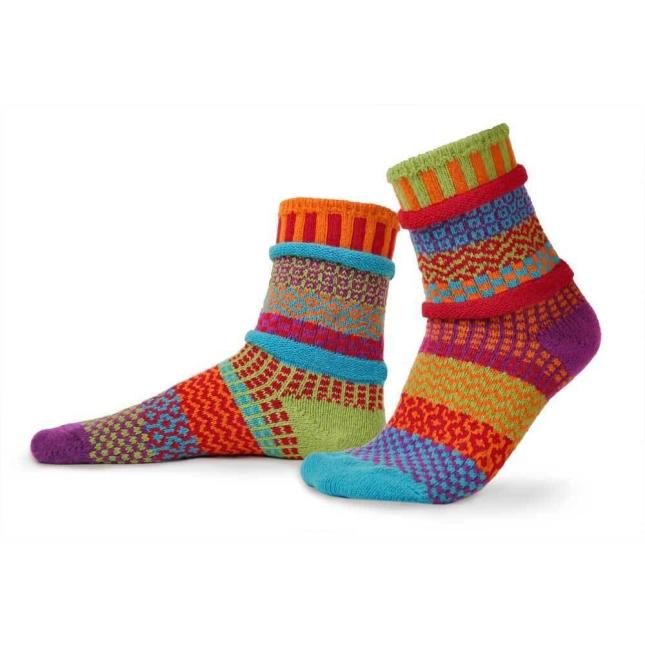 Life is too short for matching socks! These socks are made from recycled, cotton yarn and will bring a smile to anyone.Stop by the store to see our selection. We carry a variety of Solmate Socks, along with hats, scarfs and mittens.
WBU Gift Cards
Can't decide on that perfect gift for the nature lover that has everything. Our WBU Gift Cards make the best choice for any occasion. They can be loaded with any dollar amount and can be used for anything in the store.
Daily Savings Club Membership
This is the ultimate gift for the bird lover in your family. Its the gift that keeps on giving for the entire year! Your lucky recipient will save 15% of bird food everyday. It also entitles them to collect points every time they purchase anything in the store. When they reach 200 points they will receive a $10.00 Bird Buck to redeem within 6 months of issue.
Gift Boxed Mugs
Need a gift for any occasion, these mugs make the perfect choice. They are New Bone China are dishwasher and microwave oven safe. We have various styles to choose from; The Chickadee Sisters, Willy the Warbler and Guests, Goldfinch Couple - pictured, There's always a showboat, and Party Friends. You can also accessorize with napkins too.
Bee By The Sea Skin Care
This natural skincare line is specially formulated with Sea Buckthorn Fruit and seed oils in combination with unpasteurized honey. If you suffer from dry cracked skin, eczema, scars, or sunburns - This is a must try for you, it has amazing healing properties. It also makes a great daily moisturizer. We also have lip balms, body cream, body wash & body butter too.